What's it like to hike and live in the backcountry for 5 months? Host and thru-hiker Kyle O'Grady, who has completed every last step of the Appalachian Trail, interviews other thru-hikers, peak-baggers, and backpackers who are almost as crazy as him. Is life while thru-hiking really as glamorous as the social media stars make it out to be? Is pooping in the woods really that big of a deal? Find out these answers and more on Trail Tales.
Episodes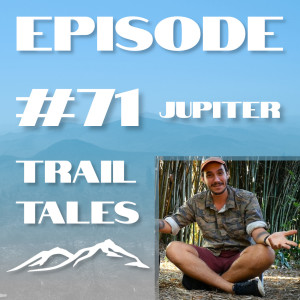 Tuesday Apr 07, 2020
Tuesday Apr 07, 2020
The trail-legend Jupiter Hikes joins the show this week to discuss the Florida Trail, the International Appalachian Trail, and mail drops! I went into this conversation with some pretty negative ideas about the Florida Trail, and Jupiter was able to clear many of those up, and start to nudge me in the right direction. Also, for the first time in Trail Tales history, we talk about hiking in the Great Province of Quebec! 
Jupiter on Instagram: https://www.instagram.com/jupiterhikes/
Jupiter on YouTube: https://www.youtube.com/channel/UCTY6PJNvuO49nIG-aWSVLJQ
Check out my YouTube Channel: https://www.youtube.com/c/kylehateshiking
While you're at it, Check out the show's website at trailtalespod.com
Like what you hear? Want to talk some smack? You can contact me on Facebook, Instagram, or send me an email: trailtalespod@gmail.com
If you're really into Trail Tales and want to receive some bonus content, please consider supporting the show on Patreon: https://www.patreon.com/trailtales. 
Feel free to leave me a five-star review on iTunes (I read every one at the beginning of the next episode), and subscribe if you like the show! My personal Instagram is @kylehateshiking, so feel free to follow me on there as well. 
Subscribe on iTunes, and listen on Google Play and Stitcher!